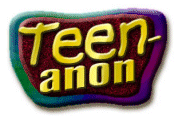 For Your Group
Qualified 'founder' group leaders are wanted to start Teen-Anon groups in their local communities. Founders can begin either Teen-Anon groups for adolescent alcohol and other drug abusers or for friends/family teen substance abusers.
Initial sponsoring group leaders should be 25 yearsup of age or older, have training in psychology, substance abuse or K-12 education and have the desire and ability to maintain a group for at least two meetings a month. If you yourself are in recovery, you are required to have been in a 12-step program for 3 years or more.
Please indicate your age, education background, experience with youth, recovery program if any, your name, address, home and work phone numbers and email address. Please indicate whether you want to start a group for teen substance abusers or friends and family of abusers or both.
If accepted, you will be expected to begin a Teen-Anon group in 90 days or less, find a church or other low-cost or free rental facility to hold your group, assume the initial responsibility for rental (members as part of their 7th.step will contribute at each meeting), publicize the group and xerox and distribute literature at meetings.
Initial literature includes The 12 Steps of Teen-Anon and Dos and Donts flyers, a group meeting list, 12-step meditation books i.e. One Day at a Time or others (many published by Hazelden), a Teen-Anon group leader guide (one time charge of $63.00), flyers to publicize your groups,etc.
The key to starting is your group leaders kit, which contains literature and flyers and press releases to reproduce, how to contact meetings, publicize, find a space, get free voicemail for your group, selecting a teen co-leader. 'rules of the group,' information on substance abuse and co-dependency and more.
To send an inquiry about leading a group, send a paragraph about yourself, your background and why interested, age, city, state, phone number, which group (substance abusers or co-dependents) you're interested in, proposed start-up date and your email address to newgroup@teen-anon.com
You may order your Teen-Anon Group Leaders Kit for $63.00, by sending a check please email for details.

You may order and download your Teen-Anon Group Leaders Manual Only online for $29.95 on our publications page.