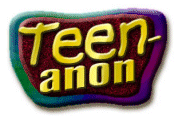 Teen Help
Here you will find some important national 411 resources on the Web and off, for problem solving and getting help for teens.
If you have an EMERGENCY, call your local 911, police, sheriff's, or health/hospitals department immediately.
If you have a problem that you need help with, anywhere in the country, here are all kinds of national and regional phone numbers you can call and Web sites you can access to get help.
You can also find more local information on teen health, drug and alcohol, violence, and crime pages listed below. If you still can't get the information you need, call us at 1 510 316-7100
The important thing is - if you or a friend or family member have a problem, DO NOT hold on to it. Get some help! You will find that, no matter what the problem, there is someone to help, others who are going through the same thing and SOLUTIONS, if you reach out - and if you talk about it.
National Hotlines
National Drug Abuse Hotline - 800-662-4357
CDC AIDS Information - 800-342-2437
National Runaway Hotline - 800-621-4000
National Hotline for Missing & Exploited Children - 800-843-5678
Youth Crisis Hotline - 800-448-4663
More helplines and hotlines are availible Here
Teen drinking and driving is truly a dangerous mix. Don't become a DUI statistic and don't ever drink and drive. This is good advice from any teacher, parent, or DUI lawyer in the U.S.